Adjusting product settings in MenuMetric
Note: If you need to ADD new products to your account, please send a detailed request in writing to support@menumetric.com.
Edits to product defaults only affect new deals started AFTER you have saved your changes. Any updates made will not affect deals that have already been started prior to your changes.
---
Step 1. Navigate to the Products Page
Edit product settings by going to Settings and then Products.

Step 2. Open your Product
Once you have gone to the Products page, you will see a list of all the products you have for your store's account.
To edit a product, click the pencil icon "

" to the right of the product.

Most items on this page can be edited. Some of the most common changes are shown below.
Product Name & Description: These settings control the name and description that are shown on every version of the menu that you use. Names and Descriptions can be as long as you would like, as long as they fit in the box and display properly on your menu. Come back to this page at any time to make adjustments as needed.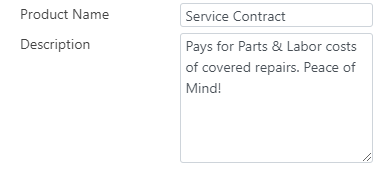 Product coverage/term defaults: For products with consistent prices, or where you sell the same coverage/term regularly, setting defaults will speed up your menu building process.
These settings are also used in product selection when you have MenuSelect enabled.
*** The "Taxable" check box determines if this product will be taxed or not. You can edit this setting on the fly when creating a menu, but setting the default to your most common scenario will help avoid mistakes.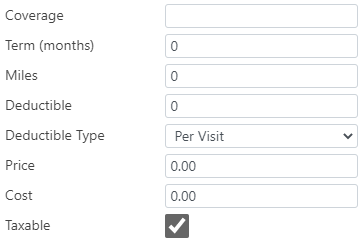 Showcase/Icons: If you are using a "Showcase" version of the menu, use the check box to include/exclude the product from the menu showcase.
For menu styles that include an icon for the products, use the Icon setting to set your preferred icon.

Sale Types: These checkboxes determine which sale types will have each product available when building a menu. All boxes are checked by default. Uncheck for any scenarios where you would not want a product available on a menu (Example: Lease Wear & Tear on Finance deals).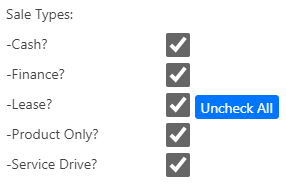 Include in Reports?: Uncheck this box for any products that should not show in reports and should not be included in any average or penetration calculations (Example: Warranty giveaway type products)

Presentations: Add presentations to your digital menus as well as the left side of your printed menu display on the Menu page.
View any presentations that have already been added by clicking on the related icon or edit a presentation by clicking on the pencil icon.

Click new to add a new presentation from the library of options. If you need to add a custom presentation to the Library, click here for instructions prior to doing this step.