Create menu templates to speed up the menu building process.
Templates can be used for any Menu Style and will significantly reduce the amount of time needed to build a menu.
---
Step 1. Navigate to the Templates Page.
Using your navigation bar enter the Settings tab > Menu Templates to get to the Menu Templates Page.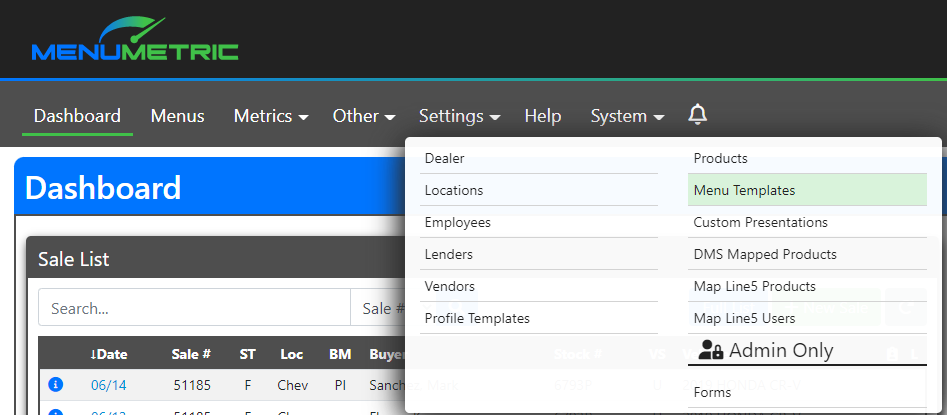 Step 2. Editing/Creating
Edit an existing template by clicking the blue pencil icon or click "New" to create a new template.

Step 3. Define your Template Settings
Once you have selected the blue pencil or + New a pop-up will appear where every detail of your menu template can be set.
Start by giving your template a name.
Choose the colors for the headers.
Decide if you want to display the icons (from Product Settings)
Choose if you would like; Menu Lines turned on or not (puts a line between each product on printed menus).

Choose from your available Menu Styles.
Set payment rounding rules. Rounding rules include: Exact (shows payments to the penny), Round (rounds the payments using conventional rounding rules), or Round-Up (rounds up to the nearest whole dollar).
Choose how you would like product payments displayed. You can show: none, price, daily, monthly, price & monthly, or price & daily. This setting will show the payment (as selected) next to each product on most menu styles.


Note: If you want more options available to you, Menu Styles can be added as requested by reaching out to the MenuMetric Support Team. (support@menumetric.com).
Step 4. Edit Columns
Set Package names
Determine which columns will show on the menu
Add products. Each drop-down will show all products available in your account. You can add products by accessing your product list in the drop-down and selecting the product you want for that row. You can use the green arrow button to push the product over into other columns on that row.


Note: To add new products, please send a detailed request in writing to MenuMetric Support at support@menumetric.com.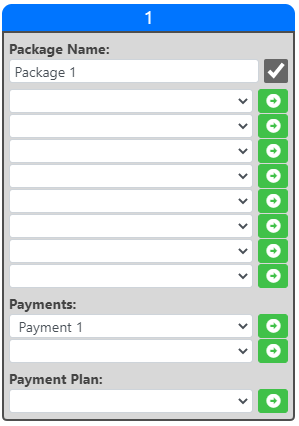 The Payment Plan dropdown will allow you to set things like biweekly payments or ZeroPlan to be shown on your menu (if they have been activated in your account).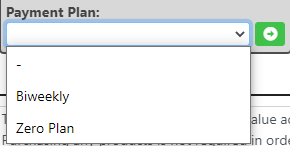 Step 5. Disclaimer
Edit the disclaimer that will be shown at the bottom of most menu styles.

Step 6. Ready to go!
Be sure to save your template once you are done making changes. You are now ready to go make presentations faster than ever before!