How to add Employees
The easiest way to add Employees to MenuMetric is to import them in a deal. If you have a Business/Finance Manager, Sales Manager, or Sales Person in your deal at the time of import, they will automatically be added to MenuMetric when your deal is imported.
To manually add an employee, follow the instructions below.
---
Step 1.
Click "New" at the top right of the screen.

A pop-up will appear where you can fill out the profile for your employee.
At a minimum, you must enter the employee's First Name, Last Name, and Initials.
For employees that will need a login, you will also need to enter their Email address.


Step 2.
Be sure to check the employee's job titles at the top right. This controls which dropdowns will include their name when building a menu.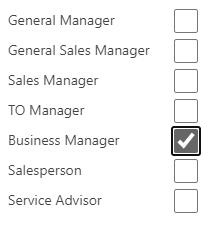 Step 3.
To give an employee access to MenuMetric, check the User box and create a username and password.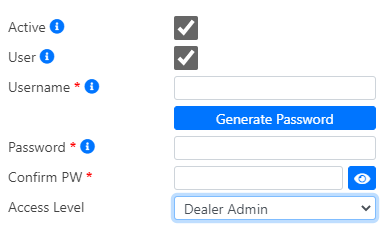 Access Levels:
Dealer Admin: Full access to all settings for your dealership.
User: Settings tab removed.
Additional Settings
---
Skip Sale Page: This setting will allow you to bypass the Sale Information page when importing a deal. The system will automatically bypass the page and go straight to the layout page after import if the balance and payment match the DMS. It can also be used in conjunction with MenuLite to help speed up the menu building process.

Rate All Products: Sets the default for the "Rate All Products" check box at import.

Hover over the "i" icons for all other settings for an explanation. Please reach out to MenuMetric Support if you have any questions.