Settings: Dealer Information - Waiver
Set defaults for the Waiver form (found on the Forms Page)
Within Dealer Information, navigate to the Waiver tab.
Use these settings here to control the defaults for your Waiver form. These settings can be adjusted on the fly when presenting the waiver.

Purchased Column & Non-Purchased Column: Choose how product payments will be displayed on the waiver. Choose from None, Price, Monthly, Daily, Price & Monthly, or Price & Daily.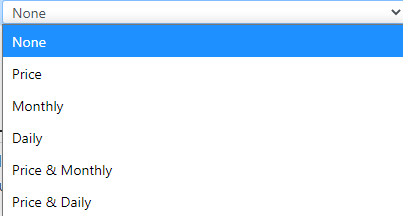 Show base payment?: Choose to display the base payment on the waiver.
Waiver Disclaimer: Set a waiver disclaimer to be used on all FUTURE waivers. Changing this setting will not affect the waiver disclaimer on deals that have already been started in MenuMetric.