Settings: Profile Templates
Create Profile Templates to speed up the Profile process
Step 1: Navigate to the Profile Templates Page.
Using your navigation bar enter the Settings tab > Profile Templates to get to the Profile Templates Page.

Step 2: Editing/Creating
Edit an existing template by clicking the blue pencil icon or click "New" to create a new template

Step 3: Define your Template
Once you have selected the blue pencil or + New, a pop-up will appear where every detail of your Profile Template can be set.
Start by giving your Profile Template a name.
Drag and drop the desired questions from Available Questions to Selected Questions.
Drag the Selected Questions up or down in that column to arrange the order.
Click Save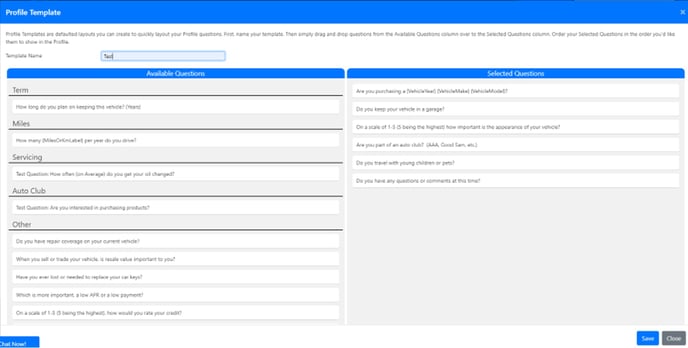 Your Profile Template is now ready to be selected within the Menu and given to the customer!