Viewing OFAC in MenuMetric
As part of its enforcement efforts, OFAC publishes a list of individuals and companies owned or controlled by, or acting for or on behalf of, targeted countries. It also lists individuals, groups, and entities, such as terrorists and narcotics traffickers designated under programs that are not country-specific. Collectively, such individuals and companies are called "Specially Designated Nationals" or "SDNs." Their assets are blocked and U.S. persons are generally prohibited from dealing with them. View more information on Treasury's Sanctions Programs.
MenuMetric automatically runs your customers' names against the OFAC list on the Sale Information page. You'll see a green check if your customer has passed the check and a yellow exclamation if they do not.
Hover over the check or exclamation to see the results.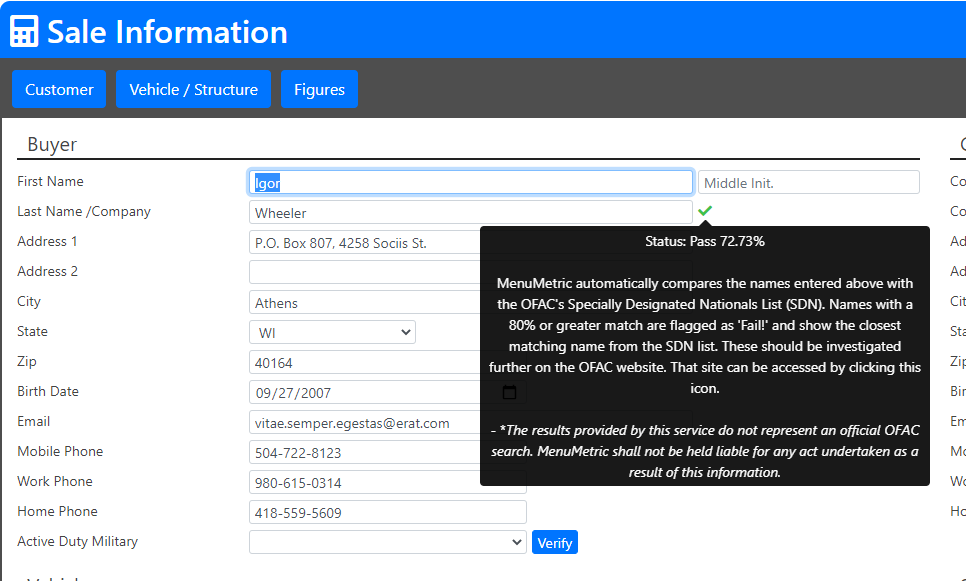 Click on the check or exclamation to be taken to the US Department of the Treasury website for more information or to run a more complete check of the list if a customer does not pass in MenuMetric.