Axis Menu
The next generation of digital menus from MenuMetric!
Axis is a menu like none other! This beautiful digital menu will entice your customer to learn more about the products, customize each option, and choose what best fits their needs.
Choose to give the customer total control, or keep control and drive the presentation yourself. Either option gets the customer more involved, speeds up the process, and results in better customer CSI and higher profits.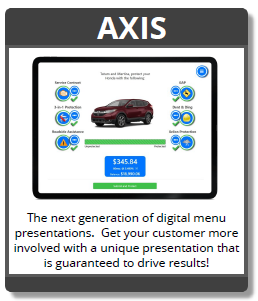 Contact MenuMetric at 516-778-6368 ext. 1 for a demo!